JWW as the Partner of the SoDA Awards 2023 Gala
On October 4-5, we had the great pleasure of participating in the SoDA Conference 2023, which was attended by over 500 representatives from the technology sector, as well as 35 expert speakers from Poland and around the world. The event includes, among others: meeting space for executives and managers, numerous panels and presentations, gala with dinner, concert and excellent networking space. We are even more pleased that we could be a Partner of the SoDA Awards Gala.
SoDA, i.e. Software Development Association Poland, thanks to the team's involvement, numerous training courses, and events for specialists and managers, creates a space for free networking. The exchange of know-how, experience, developed practices, as well as observations on the directions of development of the industry is a definite value that members gain.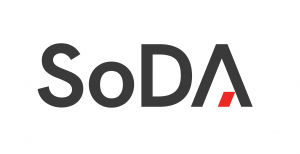 The SoDA Conference was an excellent space to discuss the current situation in the industry and forecasts for the coming years. One of the main topics of the conference was artificial intelligence in the context of legal aspects and the impact on the IT labor market. During the course, the first report of the SoDA AI Research Group was presented: "AI and Generative AI in the Public Sector." The highlight of the event was the SoDA Awards Gala, during which we presented industry and partner awards.
Here is the list of winners:
Innovations
Main prize: Deviniti – for the ROC3 Robotization of Company-Customer Communication project
Grand Prize: Intellias – for the Automotive Portable Kit project
Social involvement
Main prize: Eleks – for the Psychological Center project
Honorable Mention: Blue.Rider Software – for the Authentic Autism platform
Honorable Mention: Softiq – for the Time Bank initiative
Education
Main prize: iteo – for the iteo academy project
Honorable Mention: Epam – for the Cloud Excellence Program project
Honorable Mention: Selleo – for the Technology Guilds project
Employer Branding
Main prize: Transition Technologies – for the WiP – Women in Power project
Honorable Mention: Intellias – for the IntelliWomen project
Honorable mention: j-labs – for the project Code matters, you more!
Open Category
Main prize: Yameo – for the Last Mile Mobile Solutions project
Foreign markets
Grand Prize: Infopulse
Honorable Mention: DAC.digital
Honorable Mention: DO OK
Honorable Mention: Neti Soft
Revenue growth dynamics / new business
Revenue up to PLN 10 million
Grand Prize: DAC.digital
Revenue 10 – 40 million
Grand Prize: Qodeca
Honorable Mention: Fireart
Revenue over PLN 40 million
Main prize: Transition Technologies
Honorable Mention: Billennium
SoDA currently has over 200 member companies and is constantly growing.
We are glad that we can be part of such an important business venture, representing and supporting the industry in accounting and HR and payroll issues locally and globally.
More from the event: