JWW wins the Gold Emblem of Quality International 2021
In the Q4 of 2021, JWW Sp. z o.o. was awarded the Gold Emblem of Quality International 2021 in the Highest Quality Services category. The group of independent experts recognised our accounting, HR and payroll services, business analysis and payment management.
Highest Quality International is a nationwide project which promotes effective techniques of quality management taking place in companies and institutions. During the assessment  process experts distinguish entities which represent the highest level of standards so that thanks to these standards their customers can benefit from professional and modern products and services.
The winners of the programme are selected in three categories: QI Product (highest quality product), QI Services (highest quality service) and QI Order (highest quality management).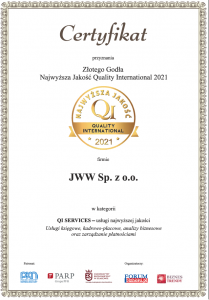 We consider winning the Gold Emblem of Quality International as recognition for the entire JWW team. Our services are not only based on experience and competence but also on friendly relations, which directly affect the quality of communication. We tend to move away from the traditional understanding of accounting because we are open to our customers' needs. We listen to them carefully, identify solutions and actively support business management. The Quality International emblem means a lot to our accounting office because we know how important it is to be trusted by clients every day – says Aleksander Widawski, Vice-President of JWW.
The Highest Quality International is the largest pro-quality competition in Poland and the Golden Emblem is a recognised indication of international importance, attesting to the reliable quality policy.
The patronage of the programme consists of independent institutions which guarantees the impartial assessment process. Patrons of the project are the Polish Agency for Enterprise Development, the Polish Committee for Standardization and the Department of Management Process at the Cracow University of Economics.