Alliott Global Alliance recognized by Chambers Guide as Band 1 Law Firm Network
We are pleased to announce that Alliott Global Alliance ranked among the top law firms in the 2023 Chambers and Partners Global Market Leaders ranking. The AGA has 215 members in 94 countries, 84 of which are law firms. Since 2019, JWW has been the only accounting office in Poland to be part of the Alliott Global Alliance
Chambers' rankings are the definitive mark of excellence in the legal industry. They recognize companies, independent networks and individuals who have distinguished themselves as leading in their field. The criteria for becoming a Leading Law Firm Network specify that the network should exist without relying on a central law firm. It needs to position itself as a viable alternative to an international law firm with multiple international offices. And if it's effective, it should help members generate peer-to-peer work and benefit customers while combining solutions when work crosses borders.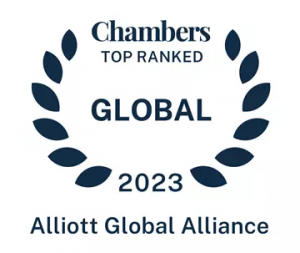 We are honoured to be recognised by Chambers in this elite category and to enter straight into Band 1 alongside a small number of prestigious law firm networks. AGA has law firm members that extend deep into Europe, Africa, the Middle East, North America, Latin America, and the Asia Pacific region, and our lawyers serve clients in 300+ locations around the world. We have worked diligently to build our alliance organically and to raise the standards required to become and remain a member firm. Furthermore, our Together as One service model ensures clients can count on a leading mid-size, independent law firm to represent them all over the world and ensure service is of a consistently high standard wherever it is needed. This is a wonderful seal of approval for the alliance, our member firms and our London based Executive Office team – comments Giles Brake, Alliott Global Alliance CEO.

The law firm associated in the Alliot Global Alliance representing Poland is Wołoszański
 & Partners Law Firm – congratulations!
More to read here.