Form of taxation – how and when to change it?
Your Best Accountant reminds you of the possibility of changing the form of taxation.

 

Such information should be reported to the competent tax office.

 

Importantly, the selected form of taxation obliges to apply it throughout the tax year.

 

Until when and how to change the form of taxation?
Taxation form – until when to change it?
Changes in the form of taxation to tax scale, a flat rate tax or a lump sum tax may be made by the 20th day of the month following the month in which the taxpayer achieved his first income in the tax year, or by the end of the tax year, if the first such income was achieved in December of the tax year.
Example
Revenue achieved in January 2023 – deadline to report is February 20, 2023.
Due to the Polish Deal, from January 1, 2022, it is no longer possible to apply for taxation in the form of a tax card. From 2022, this type of taxation can only be used by those taxpayers who have settled on its basis as of December 31, 2021 and will want to continue it.
How to report a change in the form of taxation?
The quickest way is to change via the www.biznes.gov.pl portal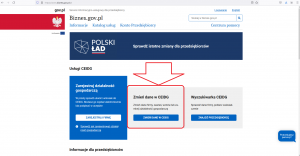 Electronic change of the form of taxation requires a qualified signature (podpis kwalifikowany) or a trusted profile (profil zaufany). The application automatically guides you through the following options: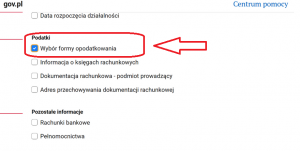 In the next step, you can choose from the possible forms of taxation: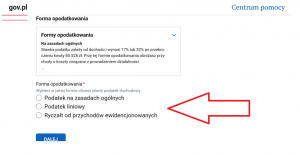 At the end of completing the online application, the number for the prepared application appears.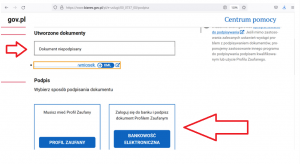 At this point, the application should be signed, without it it will not be successfully submitted.
IMPORTANT!
We suggest that you keep a copy of the signed application in PDF format and then send it to the accounting office. It is important because on this basis the appropriate income tax will be calculated according to the indicated form of taxation.
Legal basis:




art.

 

9a paragraph.

 

the Act of July 26, 1991 on personal income tax (Journal of Laws of 2021, item 1128, as amended).
Graphics Sources:
www.biznes.gov.pl